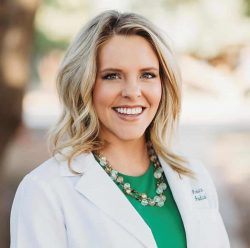 Latest posts by Dr. Arica Black, AuD
(see all)
COVID-19 has  greatly impacted our everyday lives and routines. In the medical world, healthcare practitioners are finding creative ways to reach their patients and provide excellent care, while keeping them safe and limiting social exposure. Telehealth appointments have become an increasingly popular and effective tool in accomplishing this. Audiologists are able to utilize video appointments and remote programming to continue to provide essential hearing care to patients. 
What is Telehealth?
Telehealth is the practice of providing medical care to a patient while that patient is not physically present in the doctor's office. Most often, this is accomplished through a video chat. Telehealth healthcare has been utilized by practitioners prior to coronavirus; patients who live in rural areas or cannot come into the office or other reasons have been able to utilize telehealth.
How Does Telehealth Work?
There are many ways that hearing healthcare practices can choose to provide telehealth services. 
Video Conferencing

– Patients schedule appointments with their audiologist just as they would when scheduling an in-person appointment. At the designated time, patients can expect a video call from their audiologist who will complete the appointment just as if you were in her office.

Phone Conversations

– Some providers choose to offer telehealth services over the phone. Typically, this method is only used for quick and simple issues, or for patients who do not have access to a video chat system.
Remote Programming

– Advancements in technology have made it where many hearing aids are able to be adjusted remotely. Your hearing health provider can tailor your programming through Apps that are accessible on your phone. 
Benefits of Using Telehealth
There are many benefits to using telehealth for your hearing healthcare needs. Telehealth has provided patients with a way to access their providers while staying safe and healthy. But Telehealth can be utilized for much more than a social distancing tool. 
Stay even more connected with your audiologist

. With Telehealth options and remote programming technology, it is simpler than ever to stay continuously connected to your hearing healthcare provider. Through mobile apps and other electronic rating systems, you can monitor your hearing needs while keeping your audiologist "in the loop" consistently, without the need to wait until your next scheduled appointment.

Solutions for people in rural areas and those with mobility concerns

. For some people, physically getting to your Audiology clinic is not always feasible. With telehealth services, patients can receive their hearing healthcare from the comfort and convenience of their own home.

Safe, and confidential

.  Telehealth appointments follow the same HIPAA regulations as in-person appointments, and are confidential. Providers take great care in ensuring the connections are secure, and that only you and your healthcare provider know what was discussed during your appointment.
COVID and Hearing Health
Now – more than ever – we are working to stay connected with our loved ones, even though we cannot always be physically in the same space. This means more conversations over the phone or over video chat. With untreated hearing loss, conversing over the phone or on video can be extremely difficult and frustrating. Treating your hearing loss with hearing aids can help make communicating with those you love over the phone or on video easier and more enjoyable.