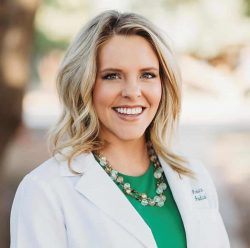 Latest posts by Dr. Arica Black, AuD
(see all)
Traveling with hearing aids can seem daunting, but a trip with hearing aids doesn't need to stress you out. Prepare for your trip in advance, and you'll be able to relax and enjoy great hearing without any issues.
Whether you're flying to another country, or visiting friends in another city or state, exploring a new place can be exciting. Don't let your hearing loss hold you back, and make sure you have everything you need for a fantastic holiday.
Flying with Hearing Aids
If you're flying to your destination, you can wear your hearing aids through security as well as on the plane. Be sure to pack all your hearing aid gear in your carry-on luggage so you have everything you need on hand.
Airports are notoriously loud places, with lots of background noise. Be sure to check the flight board often, and make sure your gate hasn't been changed. You can also sign up for notifications from most airlines, and you'll get an email or text right to your phone with relevant flight information.
Pack Extra Batteries
Don't leave home without extra batteries. Even if you're only going away for a few days, having spare batteries is a must. If you're traveling internationally you may struggle to find batteries, and you don't want to be without power. Do you have rechargeable hearing aids? Don't forget to pack the charger, and find out if you need an adapter for the country you're visiting. The USB plug-in in your charger will work in most countries.
Staying Connected
Are your devices connected to your smartphone for effortless streaming and control? This could be using data, and if you're traveling to a country where roaming charges apply, you might get home to a large phone bill. Check with your service provider, and make sure you disable data on your phone! You can still connect your devices to your phone using the Bluetooth network and avoid roaming charges.
Hearing Aid Maintenance Tips
Do you have a nightly cleaning routine? This is extremely important for the life of your devices, so don't stop just because you're not at home. In fact, you should take extra care in cleaning your devices when you're away to protect them from the added wear and tear they go through on your trip. Changing climates and humidity can have a big impact on your hearing aids, so be consistent with your cleaning routine. Take your cleaning supplies with you, and make sure your hearing aids are clean and dry.
If you're traveling to a tropical country with high humidity, consider getting a small hearing aid dryer before the trip to make sure your devices are thoroughly dried every day. Use the dehumidifier every night to make sure your hearing aids are thoroughly dried out by morning.
Let Staff Know About Your Accommodation Needs
It's important to let hotel staff know you have hearing loss and ask for any accommodations you might need such as a talk to text phone or captioning for the TV. Place your do not disturb sign on the door whenever you're in the room to avoid having a staff member or cleaner walk in unexpectedly. Hotels offer wake up calls and have specific accommodations for people with hearing loss in case of emergency.
If you've planned any tours for your trip, let the guide know ahead of time that you have difficulty hearing. Stay close to the guide, and make sure they're facing you when talking.
The Hearing Doctor
Are you ready for your trip? Get your hearing aids checked before your upcoming adventure. At the Hearing Doctor, we'll make sure they're in perfect condition to avoid any problems while you are away. If you need your hearing aids serviced before your upcoming adventure, need new batteries, or want to find the accessories that will make your holiday relaxing, visit us at The Hearing Doctor for all your hearing needs. Double check your list, and have a great trip!