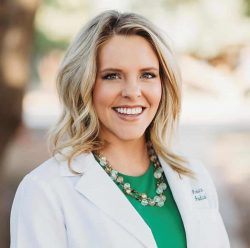 Latest posts by Dr. Arica Black, AuD
(see all)
Hearing aids are amazing devices that enable those who are hard of hearing to experience the sounds of the world again. With the continuous development of technology, we have seen the rise of Bluetooth-capable hearing aids. These devices allow people to have a more convenient listening experience with easier connectivity to their smartphones, tablets, and any Bluetooth-enabled devices. Below are some helpful facts regarding Bluetooth-capable hearing aids.
Bluetooth Specifications
When Bluetooth-capable hearing aids were initially introduced to the market, Apple patented a specific type of Bluetooth connectivity that allowed their users to sync their hearing aids directly to their iOS devices. However, some Android users would have to use an accessory, also known as a streamer, to sync their mobile devices to Bluetooth hearing aids. These streamers are required to be worn around the neck to properly connect the devices. The great news is that there are now hearing aid models available on the market, which allows direct connectivity to most Android-based phones without an accessory/streamer.
Benefits of Bluetooth Hearing Aids
A great benefit you'll have when you use Bluetooth-capable hearing aids is convenience. They allow you to connect wirelessly to your favorite devices such as your smartphone and tablet. Activities such as watching TV, talking on the phone, and listening to music have become much easier. Bluetooth-capable hearing aids provide a hands-free and convenient way of listening. The hearing aids are programmed and fine-tuned to match your unique hearing needs. Because of this, any audio that you stream to your hearing aids through Bluetooth technology is personalized to match your hearing loss, giving the very best sound quality that you can experience.
With Bluetooth-capable hearing aids, you can have a very personalized hearing experience. You can fine-tune and adjust the sound quality of the hearing aids using an app that is downloaded to your smartphone and/or tablet. You can change programs, adjust the settings, and turn the volume up/down, all from your Bluetooth-enabled device.
These high-tech Bluetooth-capable hearing aids offer many different ways to listen to your favorite sounds. If you would like to learn more about hearing aid options that are just right for you, contact The Hearing Doctor today. Our providers can help you pick the best hearing aid for your specific needs. Contact us for a consultation today!