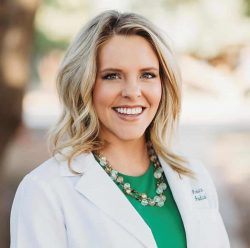 Latest posts by Dr. Arica Black, AuD
(see all)
Hearing aids are great tools designed to help those with hearing loss communicate more effectively, even in difficult listening environments. Young or old, there are many different options that will help. But, with all of the available variations out there, it can be difficult to pick which hearing aids are right for you. So, before you look at the best hearing aids on the market, here are some things you need to know:
Consult With an Audiologist
Visiting an audiologist should be your first step in this process. Audiologists are specialists in ears and hearing and will be able to recommend which is the best hearing aids on the market for you. Your audiologist will perform a hearing evaluation, which will show the type and severity of hearing loss.
They will also look into your ears and check for any wax buildup that may be affecting your ability to hear. After the test is completed, your audiologist will go over the results with you and explain your hearing loss in detail.
Beware of False Claims
Remember that even though hearing aids can help you regain some of your ability to hear, they cannot fully restore your hearing. This is why you should avoid any products that are advertised as solutions to "fix" or "cure" your hearing loss. Always discuss any questions or concerns about different hearing devices with your audiologist.
Hearing Aid Trials/Demos
Once the audiologist has discussed hearing aids with you, the next step is to try some out. Your doctor can recommend some reputable hearing aid companies from which you can choose a style that best suits your needs. Hearing aids typically have trial periods so you can try them out in different environments and build your hearing preferences. It may take some time to adjust to the devices based on your needs and lifestyle.
Consider Other Benefits
There are a lot of other benefits you can get from the features of different hearing aids. They can come with various functions, including Bluetooth connectivity, which lets you connect to your phone and other devices. Some hearing aids also have rechargeable batteries and dynamic noise reduction. These features can make hearing aids more comfortable and convenient for you.
As you wear the devices, you can see how they fit in with your lifestyle and the different environments you are in on a daily basis. Most hearing aids have a volume control, which allows you to adjust the volume as needed.
Think About the Cost
Another important aspect of hearing aids is the cost of the devices. The price of hearing aids can vary based on the quality, accessories, and extra features. The price will increase with additional features and options of the devices.
Once you start trying hearing aids, make sure to take the time to adjust and fine-tune your programming with your audiologist. If you want to learn more about the hearing aids Lubbock has to offer, contact The Hearing Doctor today. Our providers can help you pick which options would be best for you.