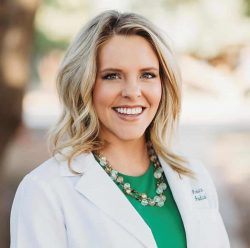 Latest posts by Dr. Arica Black, AuD
(see all)
There are a lot of different options when talking about hearing devices. They come in different shapes and sizes that can fit your lifestyle. Recent changes in government regulations have created discussions about Over-the-Counter hearing devices in comparison to the traditional, prescribed method of fitting hearing aids.
Because of these regulations, there's now a distinction between prescription hearing aids and those bought over-the-counter. Read on to learn more about their differences.
Prescription Hearing Aids
The term "prescription hearing aids" is used to describe hearing aids prescribed by an audiologist or hearing specialist. These devices are programmed by a professional who has had extensive training and experience with hearing aid technology. This type of hearing device has the capability to be a long-term solution for your hearing needs. The device is selected based on type and severity of hearing loss, as diagnosed by the hearing professional. Prescribed hearing aids are personalized and tailored based on the patient's needs and lifestyle. Most prescription hearing aids are now compatible with smartphones and other devices that can connect via Bluetooth to make the listening experience easier for those with active lifestyles.
Over-the-Counter Hearing Aids
Over-the-counter listening devices can be purchased from a drugstore or other retailers. It is important to note that there is no diagnostic hearing evaluation or doctor's prescription required when purchasing this type of device. These devices have a standard sound program, meaning they're not calibrated to a single person. This is more of a one-size-fits-all hearing device. Over-the-Counter hearing aids are designed more for general use and are not the ideal treatment for most hearing loss.
Should You Pick Over-the-Counter or Prescription Hearing Aids?
If you suspect that your hearing is decreasing, it's best to consult an audiologist before purchasing a hearing aid. Online hearing tests cannot provide you with an accurate diagnosis for your condition. While the internet has a lot of information regarding hearing loss, a proper diagnosis from a hearing expert is more beneficial to you.
Keep in mind that Over-the-Counter options are a one-size-fits-all, temporary solution for amplification and cannot be fine-tuned for your specific hearing needs. Prescription hearing aids can be tailored to treat your hearing loss and are personalized based on your particular needs and lifestyle.
If you have questions when looking into hearing aid options, the Hearing Doctor can help you. Our experienced Audiologists can give you the right tools to address your problem.