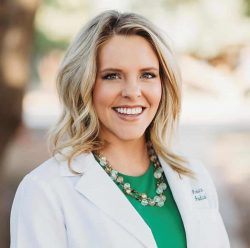 Latest posts by Dr. Arica Black, AuD
(see all)
Many of us enjoy cuddling up on the couch with a loved one and watching our favorite movie or binge watching a new show. Especially now, during the era of shut-downs and coronavirus, TV has become especially important to many of our daily lives. Watching TV with hearing loss and hearing aids can sometimes cause frustration, but it doesn't have to. 
Here are a few tips and tricks you can easily implement to make watching TV with hearing aids more fun and enjoyable.
Ways to Improve Your Experience While Watching TV with Hearing Aids
Stream directly to your hearing aids
Many hearing aids are capable of streaming directly from your TV to the hearing aids. Streaming can be customized to meet the needs of your hearing loss. You can also adjust the volume of the TV to your preference without distracting those around you. 
Use your hearing aids to your advantage
If you already use hearing aids, you can use them to your advantage while watching TV – even if they do not have the ability to stream directly. If watching TV with your hearing aids is uncomfortable, reach out to your hearing healthcare professional. A custom program can be created for specifically when you watch TV. 
Use closed captioning
Closed captioning is an effortless answer that is governmentally mandated to be available on every TV larger than 13 inches. While closed captioning is not always perfect, it can be a great source of added support when you are struggling to hear what is happening during a movie or television show. 
Telecoil Streaming
A vast majority of hearing aids are capable of using a telecoil system to stream TV. You will need to purchase a telecoil receiver that you place near the TV in order to use this option.
How The Hearing Doctor Can Help
Whether you already have hearing aids and need advice on the best way to improve your TV watching experience, or you are in the market for new hearing aids with TV streaming abilities – we are here to help. We would love an opportunity to help you find the solution that is the best fit for you and your lifestyle.